Frequently Asked Questions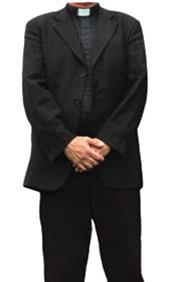 How is our event different from other Priest Appreciation Events?
In addition to the free day of relaxation, attending Priests and Final-Year Seminarians will be gifted with their choice of:
a tailored suit, all-weather coat or raincoat, sweater, shirts, socks, or tailored pants provided by our partner for over ten years, Ted's Clothiers in Englewood.
In lieu of a suit or other clothing items, Priests and Final Year Seminarians may choose a beautiful Chasuble from Gerkens Religious Supplies, our partners of two years in this Event. Gerkens is located in downtown Denver.
Attending Deacons or Laymen/Women have the option of purchasing any of the men's suit or coat items for the same discount Catholic Radio Network enjoys.
More FAQs
What is included in my golf, tour, tennis, and pickleball fees? Your golf package includes two meals, greens fees and cart, driving range, a free golf clinic prior to the Shotgun Start, and a goody bag containing snacks with two free drink tickets. Free water will be provided on the beer carts. Tour fee includes all fees associated with each destination for entry as well as snacks and drinks on the bus and the bus ride as well. Tennis and Pickleball courts, tennis pro, Pickleball pro fees and tips are all included.
What is the dress code? Collared shirts or shirts with sleeves are required. No denim. No sleeveless or strapless blouses or dresses are allowed unless they have a collar. Tennis dresses are allowed.
Where do I check-in to participate? Check-in for all activities at St. Frances Cabrini Parish, 6673 W. Chatfield, Littleton, CO 80128. If you are running late, call (303)523-9760 head to the golf course, tennis or pickleball courts to check in.
How early can I check-in and what time does the bus leave for the Tour? You may start checking in any time after 8:30AM..
How do I get a receipt for my donation? Tax receipts can always be found at the Registration/check-in desk. Or contact Karen at (303)523-9760.
How do I register?    

A simple email to Golf4Priests.com or call (303)523-9760 providing the following information: Your Name/rank, Cell Number, Parish, and Activity you wish to participate in.

If paying by check, mail it with your registration form to Catholic Radio Network, c/o Karen Mandolfo, 11642 W. Hornsilver Mtn., Littleton, CO 80127.

How do I pay by credit card?  Click here to pay by credit card.  Please e-mail or mail the completed Registration form to: Golf4Priests@gmail.com.  The address to mail to is Catholic Radio Network, c/o Karen Mandolfo, 11642 W. Hornsilver Mtn., Littleton, CO 80127.
Click here to download a Registration Form. Click here to pay online. 
Email your registration to golf4Priests@gmail.com or mail it to Catholic Radio Network, Attn Karen Mandolfo, 11642 W. Hornsilver Mtn., Littleton, CO 80127. If you pay online, please note it on your registration form.
All Bishops, Priests and Seminarians are free. Clergy/Seminarians should Email Golf4Priests@gmail.com to register, call or text Karen at (303)523-9760. Deacons will golf at a reduced rate! Contact Karen for details.
Disclaimer: Please note any funds received over and above the costs incurred will be donated to support the maintenance and upkeep of the two Colorado Springs Host Stations, 970AM KFEL and 1120AM KRCN. This Event is run entirely by Catholic Radio Network (CRN) volunteers who love the mission at hand! Thank you for your support to make it the success it has always been! Catholic Radio Network is a 501c3. Tax ID #32-0081587.