Take a Tour of Colorado Springs Sites!
Cave of the Winds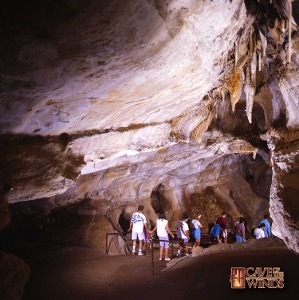 In 1881, two brothers went exploring… Come discover what they found! Explore the electrically lit portion of the Cave of the Winds on a 45 – 60 minute guided walking tour which includes 15 rooms, a 1/2 mile of concrete walkways, and 196 stairs. On this family-friendly tour, you will learn about the history and geology of the cave while being shown some of its most beautiful formations.
Additional Site TBD
Watch this site to see what the next stop of our Tour bus will be! Coming soon!
DETAILS

Date/Time: Monday, June 8th, 2020 @ Noon
Starting/Ending Point: St. Paul Catholic Church, 9 El Pomar Dr., Colorado Springs. Estimated return time is 5 p.m.
Cost: $40 for Laymen and Women, 16 and older. Included in that price is Lunch, Dinner, and snacks and water on the Tour.
Tour FAQ's
Will drinks and snacks be provided? Drinks and snacks will be provided.
What's the weather like in the Cave? The temps are between 52 and 54 degrees Fahrenheit, no matter what the weather does outside.
How should I dress for the Cave Tour? A light jacket and comfortable walking shoes are suggested.
How agile do I need to be to take the Cave Tour? Fairly ambulatory. The Discovery Tour is about ½ mile in distance and will have about 196 stairs spread throughout the trail. The most stairs you will encounter at one time will be about 15-20, going both up and down. There are also some uneven walkways and a few places where you will need to duck down to about 48 inches. It is all lit up and there will be handrails located throughout the majority of the tour. All but one room of the trail is paved.
What time will we return to St. Paul's parking lot? Estimated to return by 5:30 or a little earlier. TBD when we have the second site locked in. We will keep you posted.
Click here for Itinerary/FAQ's.  For all other questions, contact (303)523-9760 or Golf4Priests@gmail.com.  
Click here to download a Registration Form. Click here to pay online.
Email your registration to golf4Priests@gmail.com or mail it to Catholic Radio Network, PO Box 270874, Littleton, CO 80127. If you pay online, please note it on your registration form.
All Bishops, Priests and Seminarians are free. Priests/Seminarians should Email Golf4Priests@gmail.com to register.
Disclaimer: Please note any funds received over and above the costs incurred will be donated to support the maintenance and upkeep of the two Colorado Springs Host Stations, 970AM KFEL and 1120AM KRCN. This Event is run entirely by Catholic Radio Network (CRN) volunteers who love the mission at hand! Thank you for your support to make it the success it has always been! Catholic Radio Network is a 501c3.