This day is patterned after one of our Volunteers Annual Family Reunions, dating back to 1950.  Some of our games date back to then as well.  We hope you like them!
Too busy to play but want to be a part of the evening activities?  We have a solution for you!  Register for the Dinner Only at a reduced price of $25.  [Free to all clergy.]
Don't play Golf, Tennis or Pickleball and are not very adventurous?  We will gladly fix you up with one of the following fun activities: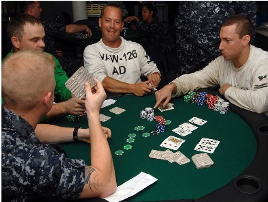 Texas Hold'em – is one of the most popular variants of the card game of poker. Two cards, known as hole cards, are dealt face down to each player, and then five community cards are dealt face up in three stages.  Are you game to learn? Lessons are at no additional charge.
Card Games – Card games seem to evolve and every year there is a new one to learn.  Come learn with us!
Cornhole is a game in which small bags filled with dried corn are tossed at a target consisting of an inclined wooden platform with a hole at one end.  Easy but you need a good eye!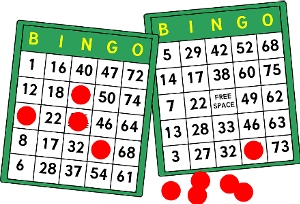 Bingo – Every good Catholic should know how to play this fun game.  We'll have prizes and laughter to give away.  Bingo is a game of chance in which each player matches numbers printed in different arrangements on cards which the game host (caller) draws at random, marking the selected numbers with tiles.  This game actually dates back to the 1500's!
Self-guided walking or biking tour – use St. Paul's as your starting point and return there for some fun and laughter as well as a good hearty dinner!  With the city located at the base of the Rocky Mountains and its many trails and parks, Colorado Springs is a popular destination for tourists seeking scenery, rock formations and other unique geological features; The Broadmoor, Seven Falls, and Cave Of The Winds Mountain Park and much more are just such examples.
DETAILS
Participants:  Anyone who doesn't want to golf, play tennis or pickleball, or take a bus Tour can be a part of these activities.  But please still register so we know how many to expect for the meals as well as the fun activities!

When: June 8th, 2020. Check in any time after 10 a.m.  Activities will begin after the Tour leaves and lunches are complete, at approximately 1PM.
Starting/Ending Point: St. Paul Catholic Church, Julie Penrose Hall.
Cost: $40 for all laymen and women, 16 and older.  Included in the cost are game prizes, lunch, and dinner.  Snacks and drinks for the afternoon are also provided.  Dinner for one is a reduced price of $30.  Dinner for two will be $40.
Click here for Itinerary/FAQ's.  For all other questions, contact (303)523-9760 or Golf4Priests@gmail.com.
Click here to download a Registration Form. Click here to pay online. 
Email your registration to golf4Priests@gmail.com or mail it to Catholic Radio Network, PO Box 270874, Littleton, CO 80127.  If you pay online, please note it on your registration form.
All Bishops, Priests and Seminarians are free. Priests/Seminarians should Email Golf4Priests@gmail.com to register. 
Disclaimer: Please note any funds received over and above the costs incurred will be donated to support the maintenance and upkeep of the two Colorado Springs Host Stations, 970AM KFEL and 1120AM KRCN.  This Event is run entirely by Catholic Radio Network (CRN) volunteers who love the mission at hand! Thank you for your support