~Golf Tournament~
We will be back at the site of the 2018 US Senior Open – the world-famous BROADMOOR!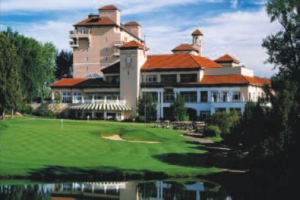 And once again we'll be on the West Course for 18 holes!  Register early!
Our Priests and Clergy
Priests and seminarians are our guests and will be treated to 18 holes of golf at The Broadmoor!  Non-clergy golfers will play for the incredible low price of $900 a foursome, if they register before May 20th!  After May 20th, it will be $1,000 for the foursome.  A single golfer will pay $250 before May 20th, and after that the price is $275.  This will make a beautiful Father's Day gift for our Priests as well as for any golfers who are parents!! Wives never know what to give their husbands that is unique and fun at the same time.  Why not give them a get-away day with their Pastor – the two Fathers would be very happy to have that gift!
Your golf package includes a Catholic Radio Network Logo Golf Cap, greens fees, driving range, a free golf clinic prior to the Shotgun Start, a gift bag containing snacks for the course with two free drink tickets and lunch prior to teeoff.  Upon your return from a long afternoon of golf, you're invited to a scrumptious Italian dinner and all the goodies that go with that including beer, wine and dessert!
Spouses, children over 16 and friends are all invited to come to golf, but if they wish to forego the fun of the links, for an additional $35 each, they may meet you for drinks, dinner and laughter with everyone!  And if they come to join you early, they are welcome to join the activity of their choice as well – tour or cards.  ALL PROCEEDS go to support the Suits For Priests portion of the Event!  There is fun for everyone – those who sign up to come for dinner only are also entitled to enjoy the afternoon tour, card game or the alternate activities as well, we just need you to register to let us know how many to expect!
Cost:
Individual Golfer: $250 (before May 20th) else $275 after May 20th
Foursome: $900 (before May 20th) else $1,000 after May 20th
Location:
St. Paul Catholic Church
9 El Pomar Rd., CO Springs, CO 80906
Click Here for Map & Driving Directions
Click here to download registration form for golf, tour and/or dinner.
Dress Code: Collared shirts or shirts with sleeves are required.  No denim, t-tops, sleeveless (unless they have a collar) or strapless blouses, dresses or shirts allowed please.
Event Day Schedule:
11:00 am – Registration, Club Drop, Lunch
11:30 am – Shuttles begin to the Broadmoor
Noon – Free Golf Clinic
1:00 pm – Golf Shotgun Start
1:30 pm – Tour & Card Games begin
6:00 pm – Drinks & Snacks at St. Paul, JPH
6:30 pm – Dinner, Prizes & Awards
After golf concludes, please return to St. Paul's Julie Penrose Hall to enjoy refreshments prior to dinner – if sufficient time allows – or meet us inside the Hall for the dinner already in progress.  Dinner will begin close to 6:30 PM if the majority of the golfers have returned.  You must be present to win prizes.  (The only exception to that rule is if they are still on the golf course when their name is called.)
For questions or more information, please contact Karen Mandolfo (303)523-9760 or golf4priests@gmail.com.
Click here to pay by credit card (be sure to call or email Karen to reserve your spot!)
Click here for a registration form and mail it and your check as soon as possible to reserve your space!  Or simply email your registration information to the email address listed above to reserve your spot and then mail your check at your leisure.
Please note that any funds received over and above the costs incurred will be donated to support the Colorado Springs Host Station, KFEL 970AM's upkeep and maintenance.  This Event is entirely run by volunteers who love the mission at hand!  Thank you for your support past and present to make this day the complete success that it is!