Save the Date for the 2018 Annual Priest Appreciation Day!
Monday, June 4th, 2018
@ St. Paul's and the Broadmoor In Colorado Spring
We are very excited to present another fun day for the Priests and Seminarians of the Dioceses of Colorado! Our Host Radio Station this year is 970AM, KEFL, and our host Diocese is Colorado Springs through the courtesy of the Most Reverend Bishop Michael Sheridan!

Join with Catholics across our Rocky Mountain state in showing support for the clergy of the Dioceses ofColorado Springs, Denver, and Pueblo! Catholic Radio Network and our treasured Sponsors invite you and your guest to enjoy a fast paced game of Texas Hold'em, a tour of the Colorado Springs area or 18 holes of golf at the home of the 2018 US Senior Open, The Broadmoor Golf Club. Then return to St. Paul's Julie Penrose Hall and share drinks, a quick snack and a delicious Italian dinner with all your favorite Priests & Bishops!
The Day is completely free for the Priests and Seminarians and every attending Priest (Bishops are priests too) and Final year Seminarian will be gifted with their choice of a beautiful chasuble, a Visa Gift Card, a $350 Ted's Clothiers Gift Card which will allow them to visit Ted's Clothiers and pick out their choice of clothing including but not limited to a suit, raincoat, all-weather coat all tailored to fit, or be measured the day of the event for their "suit" choice from Ted's Clothiers!  [Final year seminarians who will be ordained within three months of P.A.S.A.D. will also be gifted with a suit or gift card!]
Choose an activity to participate in – whether layman or laywoman, priest, seminarian, deacon, or teen (16 and older) – and then click on the appropriate tab above for details. The entire day is completely free to the Seminarians, Priests and Bishops of Colorado through the generosity of the lay faithful of Colorado and the Catholic Radio Network.  What better group of people to spend the afternoon and evening with than the Priests and Bishops of Colorado!
Deacons and Laymen please note: Register before May 20th and get the discounted price!  Call or email us (see bottom of the page) to register and click below to pay by credit card. Don't delay!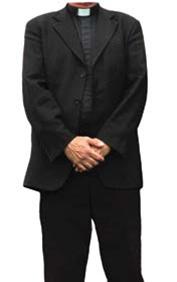 All attending priests will be gifted with a $350 Ted's Clothiers gift certificate to be used to purchase any item of clothing they wish including golf shirts, black/gray suit, all weather coat, shoes, shirts, etc. In lieu of the gift card, priests and last year seminarians are free to choose a beautiful chasuble or a Visa gift card (same as cash).
Click here to download a registration form to participate in the day or simply to share drinks and a sumptuous Italian dinner catered by the PASAD Volunteer staff! But we must have your registration or phone call/email in advance, in order to participate.
Location: St. Paul Church and golfing at the Broadmoor
Special Guests:
Diocese of Colorado Springs: Most Rev. Michael J. Sheridan
& Priests and Seminarians of all three Colorado Dioceses
Event Schedule:
11:00 am – Registration, Club Drop, Lunch
11:30:noon– Shuttles begin to the Broadmoor
Noon – Free Golf Clinic
1:00 pm – Golf Shotgun Start
1:30 pm – Tour and Card Games begin
6:00 pm – Drinks & Snacks at St. Paul, JPH
6:30 pm – Dinner, Prizes & Awards
Emcee: TBA
Event Info:
There are several ways that you can take part in the Annual Priest Appreciation Day!
You can:
Play in the Golf Tournament: Registration for golf includes 18 holes of golf at The Broadmoor and admission for one for lunch, drinks and dinner. Registration cost is $900 per foursome before May 20th, $1,000 after.  It is $250 per single golfer before May 20th, else $275 after.  No charge for Priests or Seminarians! Click here to learn more about the Golf Tournament.
Hop on the tour bus and we'll show you sites of Colorado Springs and the surrounding areas you may not have ever seen before! (There may be a little bit of walking with this activity.) Drinks, prizes and snacks will be available at all times!
Play Texas Hold'em with other fun-loving priests which will include periodic prizes throughout the game(s)! Snacks and drinks provided as well!
Attend the Appreciation Dinner: Join our Bishop(s) and all the Colorado attending Priests, Seminarians, Deacons and lay golfers as they return from the day's activities in a scrumptious Italian dinner prepared by our very own Catholic Radio Network Priest Appreciation Volunteer Chefs.  You will want to come back for seconds, it is that good! We are all going to be wearing golf togs, capris and golf shirts so DO NOT DRESS UP.  We want our guests to be as comfortable as possible!  The cost to Only be present for Drinks and an Italian Dinner is $35 and again, 

it is free to our Priests

.
We do our utmost best to get the dinner underway so we can get our guests back to their homes and rectories as early as possible. Estimated leave time is 8 p.m.
Become a Sponsor!  Suit sponsorship is $350 but we have many options in this area!  Thank you to our many Sponsors past and present, without whom we could not do this year after year.  Each tee or hole Sponsor makes a donation as well towards being able to provide nice prizes for the Clergy.  Thank you to all for your generosity!
Click here to learn more about Sponsorship.
All priests are welcome to attend and enjoy the day free of charge regardless of what they choose to participate in! Priests please click here.
Registration begins at 11:00 AM, for those who wish to eat and head for the putting green at The Broadmoor.  In an effort to get the priests measured for their choice of suit, chasuble or all weather coats, we allow extra time.  First come, first served except in the case of Bishops who always should go to the front of the line!  You may arrive as early as you like – we are there from 9 a.m. on – and you are free to use the putting green any time before, during and after lunch which will be served at St. Paul's from 11 to 1 p.m.
Download the Registration Form here.
For questions or more information please contact Karen Mandolfo, Event Coordinator
303-523-9760
golf4priests@gmail.com
To pay by credit card, click here.